Sarah Abigail Adleman was raised along the bayous of Houston with her two brothers. After working as a watch repair specialist, a project coordinator for a photographer, and a bartender in a downtown dive, she joined the Peace Corps and was sent to Bangladesh where she was stationed near Taliban training camps. She studied in Indian ashrams, taught English in China, and escaped arrest in Mexico for perceived prostitution. She earned her MFA from The University of Texas at El Paso, where she lived for ten years, while simultaneously practicing as a Certified Yoga Therapist specializing in Traumatic Brain Injury. Her work has been recognized by Kindred Magazine, Terrene, and Glimmer Train. She is the author of the hybrid memoir The Lampblack Blue of Memory: My Mother Echoes (Tolsun Books, 2019). Sarah currently lives in Colorado with her husband, dog, and newborn son.
Madeleine Barnes is a writer, visual artist, and Doctoral Fellow in English Literature at The Graduate Center, CUNY. She serves as Poetry Editor at Cordella Magazine, co-curates the Lunar Walk Poetry Series at Local138 in Manhattan, and teaches at Brooklyn College. Her debut full-length poetry collection, You Do Not Have To Be Good, was selected as a winner of Trio House Press' open reading period, and will be published in 2020. She is the author of three chapbooks: Light Experiments, Porkbelly Press' first ever zine-style photo chapbook, Women's Work, forthcoming from Tolsun Books in 2020, and The Mark My Body Draws in Light (Finishing Line Press, 2013).She is the recipient of a John Woods Scholarship to study poetry in the Czech Republic, a New York State Summer Writers Institute Fellowship, two Academy of American Poets Poetry Prizes, the Princeton Poetry Prize (judged by Paul Muldoon and C.K. Williams), the Gertrude Gordon Journalism Prize, and the Three Rivers Review Poetry Prize (see publications). She was named an Emerging Writer by the Poetry Ireland Introduction Series, and Brooklyn Poets Poet of the Week.She earned a BHA from Carnegie Mellon University, a Masters of Philosophy in Creative Writing from Trinity College Dublin, and an MFA in Creative Writing from New York University, where she taught two undergraduate creative
Jennifer Battisti, a Las Vegas native, studied creative writing at the College of Southern Nevada. Her work has appeared in the anthology, Legs of Tumbleweed, Wings of Lace, and is forthcoming in Where We Live, an anthology of writing and art in response to the October 1st tragedy, as well as The Desert Companion, Minerva Rising, The Citron Review, FLARE, Helen: A Literary magazine,The Red Rock Review, 300 Days of Summer and elsewhere. In 2016 Nevada Public Radio interviewed her about her poetry. She holds a leadership position on the Las Vegas Poets Organization and is the administer and a participating teaching artist for the Alzheimer's Poetry Project in Nevada. This is her first chapbook.
Jeffrey Bolden, known as Boosie, is an alumnus of Chatham University's MFA program. Hailing from many places, Boosie has a deep connection with the South which is demonstrated throughout his language, his poetry, and his creation. He doesn't speak on the sprawling pastoral beauty which the South is known for but rather the hard-hitting stories of violence and crime with an emphasis on the music that comes from underground Southern rappers. Boosie is the creator of A Collage of Song and Story, concept performance pieces that infuses elements of fiction, non-fiction, spoken word, and poetry into a narrative told through lyrics of the rappers and other artists that has inspired Boosie so much. As he says, "This is simply my dedication to all of lyricists that came before me."
Angela M. Brommel is a Nevada writer with Iowa roots. In 2018, her chapbook, Plutonium & Platinum Blonde, was published by Serving House Books. Her poetry has been published in The Best American Poetry blog, The North American Review, The Literary Review's (TLR) Share, and many other journals and anthologies. A 2018 Red Rock Canyon Artist in Residence, Angela served as the inaugural poet of the program. She earned an MFA in Creative Writing from Antioch University and an MA in Theatre from the University of Northern Iowa. Mojave in July is her debut full-length poetry collection. Angela is the Executive Director of the Office of Arts & Culture as well as affiliate faculty in Humanities at Nevada State College. You can also find her at The Citron Review as Editor-in-Chief.
Dani Burlison is the editor and creator of "All of Me: Love, Anger and the Female Body" (PM Press, 2019), an anthology based on her Lady Parts zine series, and "Dendrophilia and Other Social Taboos: True Stories," a collection of essays which first appeared in her McSweeney's Internet Tendency column of the same name. She has been a staff writer at a Bay Area alt-weekly, a book reviewer for Los Angeles Review and a regular contributor at Chicago Tribune, KQED Arts, The Rumpus and Made Local Magazine. Her writing can also be found at Ms. Magazine, Yes! Magazine, Earth Island Journal, WIRED, Utne, Portland Review, Ploughshares (blog), Hip Mama Magazine, Rad Dad, Spirituality & Health Magazine, Shareable, Tahoma Literary Review, Prick of the Spindle and more. She lives, teaches and writes in Santa Rosa, CA
Morgan's work has appeared in Room, Aethlon, Moko, Little Patuxent Review, Obra/Artifact, Blackberry: A Magazine, and has been anthologized in BLF Press's Black to the Future. Her poetry chapbook Variations on a Lobster's Tale was the winner of the 2017 Alexander Posey Chapbook Prize (University of Central Oklahoma Press, 2018) and her second poetry chapbook Sterling was released in 2019 (CW Books, 2019). She is the winner of the 2018 Likely Red Fiction Chapbook contest, where her third chapbook When Dog Speaks was also published in 2019. Morgan has been nominated for a Pushcart Prize and Best of Net and recently completed a Masters in Creative Writing.
Vanessa Couto Johnson's "Try the yen relish," a sixteen-page prose poem sequence, was released in a first BoxSet from Oxidant | Engine in early 2018. Softblow, Thrush, Field, Blackbird, Cheat River Review, Cream City Review, and other journals have featured her poetry. Her third chapbook, speech rinse, won Slope Editions' 2016 Chapbook Contest; her second chapbook is rotoscoping collage in Cork City (dancing girl press, 2016); and her first chapbook, Life of Francis, won Gambling the Aisle's 2014 Chapbook Contest. A Brazilian born in Texas (dual citizen) and two-time Pushcart Prize nominee, she is currently a Lecturer at Texas State University, where she earned her MFA.
Letisia Cruz is a Cuban-American writer and artist. She is a graduate of Fairleigh Dickinson University's MFA program and currently lives in Miami, Florida with her boyfriend and two cats. Her poetry chapbook, Chonga Nation, was selected as a finalist in the 2016 Gazing Grain Press Poetry Chapbook Contest, and her writing and artwork have appeared in Ninth Letter, The Acentos Review, Gulf Stream, and Ink Brick, among others. She serves as resident artist and co-editor at Petite Hound Press.
Shome Dasgupta is the author of i am here And You Are Gone (Winner Of The 2010 OW Press Fiction Chapbook Contest), and The Seagull And The Urn (HarperCollins India, 2013) which has been republished in the UK by Accent Press as The Sea Singer (2016). His first collection of short stories, Anklet And Other Stories was published by Golden Antelope Press in 2017. His novel, Pretend I Am Someone You Like, is forthcoming from the University of West Alabama's Livingston Press. His stories and poems have appeared in Puerto Del Sol, New Orleans Review, NANO Fiction, Everyday Genius, Magma Poetry, and elsewhere. His fiction has been selected to appear in The &Now Awards 2: The Best Innovative Writing (&Now Books, 2013). Shome's work has been featured as a storySouth Million Writers Award Notable Story, nominated for The Best Of The Net, and longlisted for the Wigleaf Top 50. He is a high school English teacher, living in Lafayette, LA.
Brandon French is the only daughter of an opera singer and a Spanish dancer, born in Chicago sometime after The Great Fire of 1871. She has been (variously) assistant editor of Modern Teen Magazine, a topless Pink Pussycat cocktail waitress, an assistant professor of English at Yale, a published film scholar, playwright and screenwriter, Director of Development at Columbia Pictures Television, an award-winning advertising copywriter and Creative Director, a psychoanalyst in private practice, and a mother. Sixty-three of her stories have been accepted for publication by literary journals and anthologies, she's been nominated twice for a Pushcart, she was an award winner in the 2015 Chicago Tribune Nelson Algren Short Story Contest, and she has a published collection of poetry entitled Pie.
Howie Good, Ph.D., a journalism professor at SUNY New Paltz, is the author of The Loser's Guide to Street Fighting, winner of the 2017 Lorien Prize from Thoughtcrime Press, and Dangerous Acts Starring Unstable Elements, winner of the 2015 Press Americana Prize for Poetry, among other books. He co-edits White Knuckle Press with Dale Wisely.
Robin Gow is the author of the chapbook Honeysuckle. Their poetry has recently been published in POETRY, Thin Air, and 45th Parallel and has won prizes from Brooklyn Poets, Negative Capability Press, and Fearsome Creatures Magazine. They is the Editor-at-Large for Village of Crickets, Managing Editor at the Nasiona and Social Media Coordinator for Oyster River Pages. Their chapbook, A Museum For That Which No Longer Exists was runner up in New Delta Review's chapbook contest 2019 and his chapbook, Some Metaphor Are Self-Inflicted was a finalist for Glass Poetry's chapbook contest 2019. They is an out and proud genderqueer person passionate about LGBT issues. They also runs a non-profit for transgender youth and does LGBT+ inclusivity trainings at schools, colleges, and health care systems across the country. They is a graduate student and professor at Adelphi University. They is the founder of Gender Reveal Party, a trans and queer reading series in New York City.
Carolyn Guinzio is the author of five previous collections, most recently Ozark Crows, a sequence of visual poems (Spuyten-Duyvil, 2018). Her book Spoke & Dark (Red Hen, 2012) was selected by Alice Quinn as winner of the To The Lighthouse/A Room of Her Own Prize. Her work has appeared in Agni, Bomb, Boston Review, Harvard Review, The New Yorker and many other journals. A Chicago native, she lives in Fayetteville, AR
Brittany Hailer is a freelance reporter and educator based in Pittsburgh, Pennsylvania. She graduated with Master's in Fine Arts from Chatham University. She taught creative writing classes at the Allegheny County Jail and Sojourner House as part of Chatham's Words Without Walls program. She has won several awards for her creative work. In 2017, for PublicSource, she wrote a ten-part series called Voices Unlocked exploring how the U.S. penal system has shaped identity and life of many Pittsburgh residents. That series also aired on local NPR news station 90.5 WESA. For PublicSource, she has also covered stories on drug addiction, race, development, and motherhood.
Elizabeth Hellstern is a writer and an artist, working to make word as interactive as possible. She received her MFA in Creative Writing from Northern Arizona University. Her multi-genre writing work has appeared in Hotel Amerika, American Journal of Poetry, North Dakota Quarterly, Slag Glass City, Queen Mob's Tea House, The Tusculum Review, Inner Child Press and New World Writing. She is the editor of the forthcoming Telepoem Booth Anthology. Her artwork includes national placements of the public art installation the Telepoem Booth, where members of the public can dial-a-poem on a rotary or push-button phone in a vintage phone booth or kiosk. For more information, visit telepoembooth.com.
Jen Hirt's memoir, Under Glass: The Girl With a Thousand Christmas Trees (University of Akron/Ringtaw Press), won the Drake University Emerging Writer Award. Her essay "Lores of Last Unicorns," published in The Gettysburg Review, won a Pushcart Prize. She is the co-editor of Creating Nonfiction: Twenty Essays and Interviews with the Writers (SUNY Press, 2016), which won "Gold" in the Foreword Reviews INDIE award for 2017. She is the co-editor of Kept Secret: The Half-Truth in Nonfiction (MSU Press, 2017). Her essays have also received the Gabehart Prize for Nonfiction from the Kentucky Women Writers Conference, a Pennsylvania Council on the Arts grant, and three notable essay mentions in Best American Essays. She was a finalist at the Zone 3 Creative Nonfiction Book award and the Pleiades Press Prize. She has an MFA from the University of Idaho, an MA from Iowa State University, and a BA from Hiram College. She is an associate professor of creative writing at Penn State Harrisburg.
Korbin Jones received his Bachelor of Arts in Spanish and his Bachelor of Arts in Writing: Creative Writing and Publishing from Northwest Missouri State University. He is a current candidate for his Master of Fine Arts in Creative Writing: Poetry at the University of Kansas. His poetry and translations have been published by Indolent Books, Obra/Artifact, Periphery, and Missouri's Best Emerging Poets, among others. When not writing, he is the Editor-in-Chief of Fearsome Critters: A Millennial Arts Journal and the Assistant Design Editor of LandLocked.
Eric Paul is a writer and musician from Providence, Rhode Island. He has been the lyricist and vocalist for the bands Arab On Radar and The Chinese Stars, Doomsday Student, as well as his current band, Psychic Graveyard. Eric has released two full-length volumes of poetry and lyrics: I Offered Myself As The Sea and A Popular Place To Explode, both published by Wesley Eisold's Heartworm Press. In 2017, Eric was the recipient of the Rhode Island State Council for the Arts Fellowship Award in Poetry. Eric holds a BFA in Philosophy from Rhode Island College and an MFA in Creative Writing from Fairleigh Dickinson University. His work has also appeared in such places as: New York Observer, Impose Magazine, Ninth Letter, The Volta, Word Riot, Lunch Ticket, Spork, Booth, and The Literary Review
Pablo Luque Pinilla is the author of the poetry books: Cero (Renacimiento, 2014), SFO (photographs by José Luis R. Torrego, Renacimiento, 2013) and Los ojos de tu nombre (Huerga & Fierro, 2004), as well as the anthology: Avanti. Poetas españoles de entresiglos XX-XXI (Olifante, 2009). He has published poems, reviews, studies, articles and interviews in Spanish media and Italian bilingual editions. Also, he created and directed the poetry magazine Ibi Oculus (ibioculus.com, 2008-2018), with the sponsorship of Ediciones Encuentro, and, together with other writers, founded and directed the poetry think-talk Esmirna (esmirna-poesia.blogpot.com, 2007-2012). He has participated in festivals and events of poetry throughout his career, among them the festival AmoBologna Poesia (Centre of Contemporary Poetry of Bologna University); the irish-spanish poetry festival The Well (Círculo de Bellas Artes de Madrid) or the season El Latido (Cervantes Institute of Rome).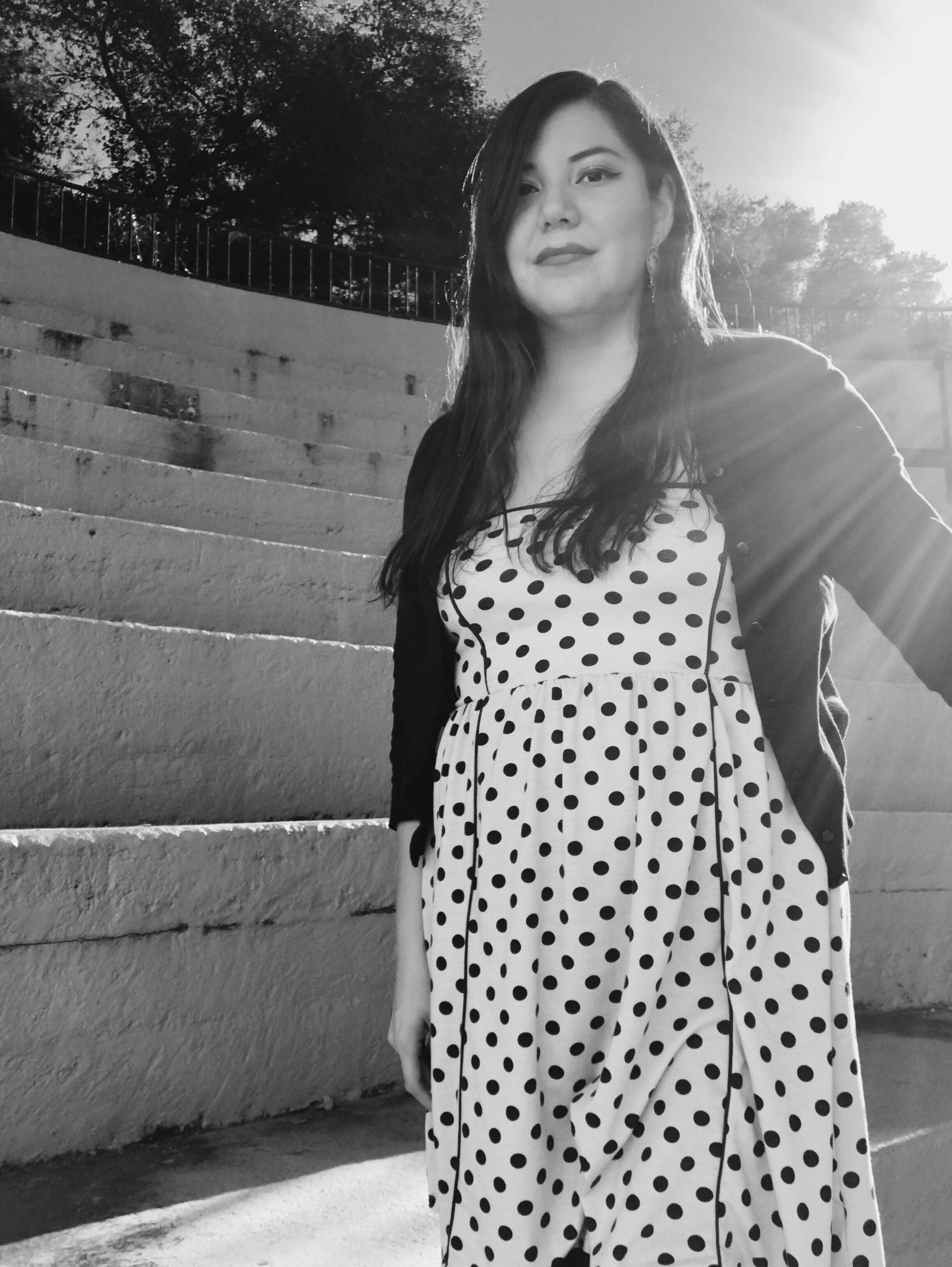 Amber McCrary is Diné poet, zinester and feminist. She is Red House born for Mexican people. Originally from Shonto, Arizona and raised in Flagstaff, Arizona. In the small town of Flagstaff is where she discovered her love for Punk Rock and the Do it Yourself Culture. She earned her BA from Arizona State University in Political Science with a minor in American Indian Studies. She is currently pursuing her MFA in poetry at Mills College. She is also the creator of DANG! Zine (Daydreaming, Awkward, Native, Girl) Vol. 1 and Vol.2, Angsty Asdzáá: Tales of an angry Indigenous womxn zine and The Asdzáá Beat. She currently lives in Oakland, California.
Chad Meadows lives in New Jersey with his wife and daughter and cat with a high pitched voice. He once dropped a 12-pound shot-put on his head in elementary school. The ground was wet and he did not dry off the shot-put after the previous child attempted to throw it. It slipped out of his tiny hands. Why were they asking that of these children to begin with? He has an MFA from Fairleigh Dickinson University, where his story Trivia Barker Can't Lose was selected for the 2011 Director's Award for Fiction. His writing has appeared on the Squawkback.com, Crack The Spine Literary Journal, Fixional.com and TLR Online, and in the upcoming Fairleigh Dickinson University Alumni Anthology. He has never been struck by lightning and has read at least 10 Hardy Boys mystery books.
Thomas Mundt is the author of the short-story collections (Intentionally Blank) (Tolsun Books, 2019) and You Have Until Noon To Unlock The Secrets Of The Universe (Lady Lazarus Press, 2011). Representative work can be found in places like Wigleaf, Split Lip Magazine, The Austin Review, Cheap Pop, Four Chambers, Prick of the Spindle, among others. He lives in Chicago.
A.J. Odasso's poetry has appeared in a variety of publications, including Sybil's Garage, Mythic Delirium, Midnight Echo, Not One of Us, Dreams & Nightmares, Goblin Fruit, Strange Horizons, Stone Telling, Farrago's Wainscot, Liminality, Battersea Review, Barking Sycamores, SWAMP Writing, Belmont Story Review, New England Review of Books, and Rascal. A.J.'s début collection, Lost Books (Flipped Eye Publishing), was nominated for the 2010 London New Poetry Award and was also a finalist for the 2010/2011 People's Book Prize. Their second collection with Flipped Eye, The Dishonesty of Dreams, was released in 2014; their third-collection manuscript, Things Being What They Are, an earlier version of The Sting of It, was shortlisted for the 2017 Sexton Prize. Their prose has appeared in the Hidden Youth (Crossed Genres) and Knowing Why (Autistic Self-Advocacy Network) anthologies, as well as in the Winter 2017 and Spring 2018 issues of Pulp Literature. They hold an M.F.A. in Creative Writing from Boston University and serve as Senior Poetry Editor at Strange Horizons magazine (www.strangehorizons.com)
Shawnte Orion & Jia Oak Baker
Shawnte Orion attended Paradise Valley Community College for one day. He is the author of two recent collections of poetry: The Existentialist Cookbook (NYQBooks) and Faithful as the Ground (Five Oaks Press). His poems appear in The Threepenny Review, Barrelhouse, New York Quarterly, Sugar House Review, and elsewhere. He serves on the editorial board for Rinky Dink Press and has performed in bookstores, bars, universities, hair salons, museums, and laundromats. Visit batteredhive.blogspot.com.
Jia Oak Baker's poetry chapbooks include Crash Landing in the Plaza of an Unknown City (Dancing Girl Press) and Well Enough to Travel (Five Oaks Press). Her photography can be seen in Star 82 Review, Lime Hawk, The Notebook, Write On Downtown, Shrew, Rascal, Arizona Hikers' Guide, and elsewhere. Jia received a 2015 grant from the Arizona Commission on the Arts and has been awarded residencies from the Helene Wurlitzer Foundation and Hedgebrook. See more on Instagram @violetsky29.
Benjamin and Steven Ostrowski
Benjamin Ostrowski is a current PhD student studying Organizational Behavior at Carnegie Mellon University. He has poems published in The Gyroscope Review, Blue Muse, weirderary, The Dark River Review, An Anthology of Emerging Poets, and The American Journal of Poetry. With his father, Steven Ostrowski, he has published a collaborative chapbook called Seen/unseen.
Steven Ostrowski is a poet, fiction writer, painter and songwriter. In 2009, he won Harpur Palate's Milton Kessler Award for a single poem. In 2017, he won The Atlantic Road Prize for his long poem, After the Tate Modern, which will be published as a chapbook by Island Verse Editions in 2018. He has published four previous chapbooks, and his work appears widely in literary journals, magazines, and anthologies. He teaches in the English Department at Central Connecticut State University.
Colin Pope grew up in the Adirondacks. His poetry, essays, and criticism have appeared in journals such as Slate, Best New Poets, Los Angeles Review, Rattle, Willow Springs, and Denver Quarterly, and his manuscript Prayer Book for an American God was named a finalist for the 2018 Louise Bogan Award. He's the recipient of two Academy of American Poets prizes, as well as residencies and scholarships from The Vermont Studio Center, Gemini Ink, the New York State Summer Writers Institute, Round Top Poetry Festival, and others. Colin holds an MFA from Texas State University and is currently a PhD candidate at Oklahoma State University. He works on the editorial staffs of Cimmaron Review and Nimrod International.
Elizabeth Quiñones-Zaldaña
Quiñones-Zaldaña earned a B.A. in English from the University of Nevada, Las Vegas. Her poetry has been published in From Snowcaps to Desert Flats: An Anthology of Latino Writers in Nevada; Legs of Tumbleweeds, Wings of Lace: An Anthology of Literature by Nevada Women; Clark: Poetry from Clark County, Nevada; and 300 Days of Sun. Her poetry has also been featured in visual art exhibits through the Nevada Humanities Program Gallery and the Las Vegas Chapter of the American Institute of Graphic Arts. Elizabeth has served as a judge for the Nevada Arts Council's 2017 youth Poetry Out Loud Recitation Competition, as a panelist for the Las Vegas Book Festival's 2018 "Heart of Poetry: Nevada Voices," and as a poet-educator through other Nevada Arts Council and Nevada Humanities educational programs. She lives in southern Nevada with her husband and three children.
SARAH SALA is a poet, educator, and native Michigander. A chapbook of her selected poetry, The Ghost Assembly Line, was published by Finishing Line Press in Spring 2016. Her poem "Hydrogen" was featured in the "Elements" episode of NPR's hit show Radiolab in collaboration with Emotive Fruition. She is the founder of the free poetry workshop, Office Hours, which fosters community among adjunct instructors, and co-produces AmpLit Fest in conjunction with Summer on the Hudson. Currently, she's Assistant Poetry Editor at the Bellevue Literary Review.
Sarah's awards and honors include: an Academy of American Poets University & College Prize, the Marjorie Rapport Award for Poetry, an Avery Hopwood Award for Nonfiction, and a Roy W. Cowden Memorial Fellowship. She earned her MFA in Poetry from New York University in 2012. She is a 2019 Poets House Fellow, as well as a 2016 & 2018 Home School Fellow. Her work appears in BOMB, Michigan Quarterly Review, The Southampton Review, The Stockholm Review of Literature, and Atlas Review, among others. Sarah is a language lecturer in the Expository Writing Program at New York University, and lives in Manhattan.
Johnny Salas is a photographer based in Phoenix, AZ. His photos have appeared in Hamburger Eyes and Waxwing.
Jesse Sensibar is unafraid to die but terrified of dying alone. He loves big bore handguns with short barrels; the clean, uncluttered lines of old outlaw choppers, old pawn jewelry, and small fuzzy critters with equal abandon. He has a soft spot in his heart for The Virgin of Guadalupe, tide pools, house cats, quiet bars, innocent strippers, and jaded children. He has worked as a mechanic, heavy equipment operator, strip club bouncer, repossession agent, tattoo shop owner, private investigator, tow truck driver, snow plow operator, wildland firefighter, and college English teacher. He received an MFA in Creative Writing and an MA in English from Northern Arizona University. He currently resides in Flagstaff, Az and Tucson, Az.
Donna Steiner's writing has been published in literary journals including The Sun, Fourth River, Radar Poetry, Under the Gum Tree, Brevity, and Stone Canoe. She teaches at the State University of New York. A chapbook, Elements, was released by Sweet Publications.
Fiona Sze-Lorrain writes and translates in English, French, and Chinese. Her most recent book of poetry The Ruined Elegance (2016), published by Princeton University Press, was a finalist for the 2016 Los Angeles Times Book Prize and one of Library Journal's "Best Books 2015: Poetry." Her work includes two earlier collections, My Funeral Gondola (2013) and Water the Moon (2010), and several books of translation of contemporary Chinese, American, and French poets. Shortlisted for the 2016 Best Translated Book Award in Poetry and longlisted for the 2014 PEN Award for Poetry in Translation, she lives in Paris and works as a zheng harpist and editor.
Cody Wilson teaches English in Arizona, where he lives with his wife and son. He has an MFA from Queens University of Charlotte, where he served as poetry editor of QU. He enjoys making things with his hands, including wooden furniture, shadow puppets, and gestures of approval or disapproval. He has recent poems published in Juked, Juxtaprose, Southampton Review and forthcoming in Emrys.
Emilee Wirshing is a librarian and lifelong Nevadan. She earned her BA in creative writing and literature from James Madison University and her MLIS from San Jose State University. Emilee advocates for local poets and creativity in the community by hosting various Poetry Open Mic Nights and writing workshops through Henderson Libraries. She has served as a judge for the Library of Congress 'Letters About Literature' Contest, and was the founding poetry editor of Noble / Gas Qtrly. Her poetry has been published in 300 Days of Sun, Infinite Rust, Quiddity, Helen, and Thing. Anthologies Clark and Legs of Tumbleweed, Wings of Lace also include her work. Emilee currently lives in Henderson, Nevada with her grandmother's spaniel.
Poet, fiction writer, essayist, film director, and scriptwriter Yin Lichuan is one of the founders of the "Lower Body" Movement based in Beijing during the early 2000s. Born in 1973 in Chongqing, Sichuan province, she studied French at Beijing University before pursuing a graduate degree in filmmaking at École supérieure libre d'études cinématographiques (ESEC) in Paris. Her publications include several books of prose and fiction, such as a novel Bitch (2002) and a collection of short stories Thirteen Caprices (2003), as well as three volumes of poetry, Karma (2006), Wet Paint (2007), and The Doors (2015). Since 2006, Yin has devoted herself to filmmaking. She lives in Beijing.